Val Dann's Artist Statement
I was born in New York City and from my earliest memories art has played an important role in my life. I graduated with a degree in fine art, education and psychology.
After a career in Communications and Marketing, I relocated from Central California to Southern Oregon. You could say that my life has come full circle, as time allows me to pursue my love of art.
I enjoy plein air painting and painting in my home studio. My art reflects a broad range of styles with a variety of mediums; including acrylic, charcoal, graphite, encaustic, oil and pastel. Experimentation and pushing the elements of art toward abstraction can be seen in many of my paintings. As you view my art, please remember that a painting is nothing more than an illusion created on a flat surface. I invite you to allow your mind wander and let your eyes explore the space.
It is You - Who Brings Art to Life !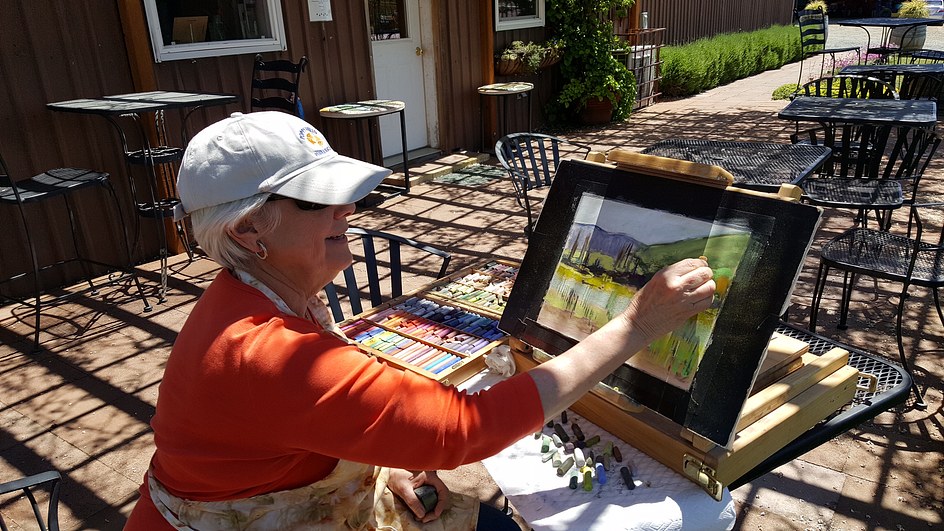 Click on "Galleries" - at the top of this page to view my art portfolio
For more information please email me - valdann49@charter.net
Current Memberships:
Grants Pass Art Museum - Grants Pass, Oregon - www.gpmuseum.com
Rogue Gallery and Art Center, Medford, Oregon - www.roguegallery.org
2021 Events - Featured Artist at South Stage Cellars the entire month of June.
2020 Events
Grants Pass Art Museum Art Auction - February 22
Rogue Gallery & Art Center Celtic Festival March 6 - 31 - Best of Show "Green Fields of Ireland"
South Stage Cellars, Jacksonville, Oregon - Guest Artist July - www.southstagecellars.com
2019 Events
Weisinger Family Winery, Ashland, Oregon - Guest Artist November & December - www.weisingers.com
Olympia Art League, Olympia Washington, Workshop April 24th - Juried Show Reception April 25th
South Stage Cellars, Jacksonville, Oregon - Guest Artist March - www.southctagecellars.com
2018 Events
Rogue Gallery and Art Center - Medford, Oregon, www.roguegallery.org
Community Gallery Show - 2/9 - 3/9/2018


2017 Events
Belle Fiore Winery - Ashland, Oregon - Guest Artist for the month of March
Cliff Creek Cellars - Gold Hill, Oregon - Guest Artist for the month of May
Southern Oregon Plein Air Competition, Medford, Oregon - June 28th thru July 1, 2017


2016 Event -
" A Grape Celebration" was the painting selected for the Ashland Artist Series award winning Malbec wine label by Platt Anderson Cellars, www.ashlandwine.net